Watch Dr. Brita explain how you can use the incredible pelvic wand by Intimate Rose to lengthen and relax the pelvic floor muscles and tissue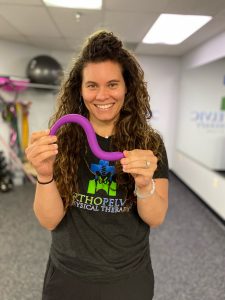 This is such an amazing tool, and in our clinic, we have…
-the original wand 🪄(pictured with Dr. Kelly)
-the vibrating wand 🪄
-the temperature wand 🌡🪄
We have these available for you to use as a part of your treatment plan to help you progress at home during the times in between appts.
Our mission is to empower you through education to heal your own body without expensive and complicated surgeries.
We work to educate you so you can feel empowered to work WITH your body and not feel as if you're fighting against it.
It can be so tough to work with tight spots in the pelvic floor on your own. Let us empower you to use the wand to do just that!
Do you deal with pelvic pain (pain with intercourse, tailbone pain, hip pain, pubic pain etc.)? Book a FREE 10-minute consult call. We'd love to connect with you and share how we can eliminate that pain✨
Be empowered in education,
OrthoPelvic Physical Therapy