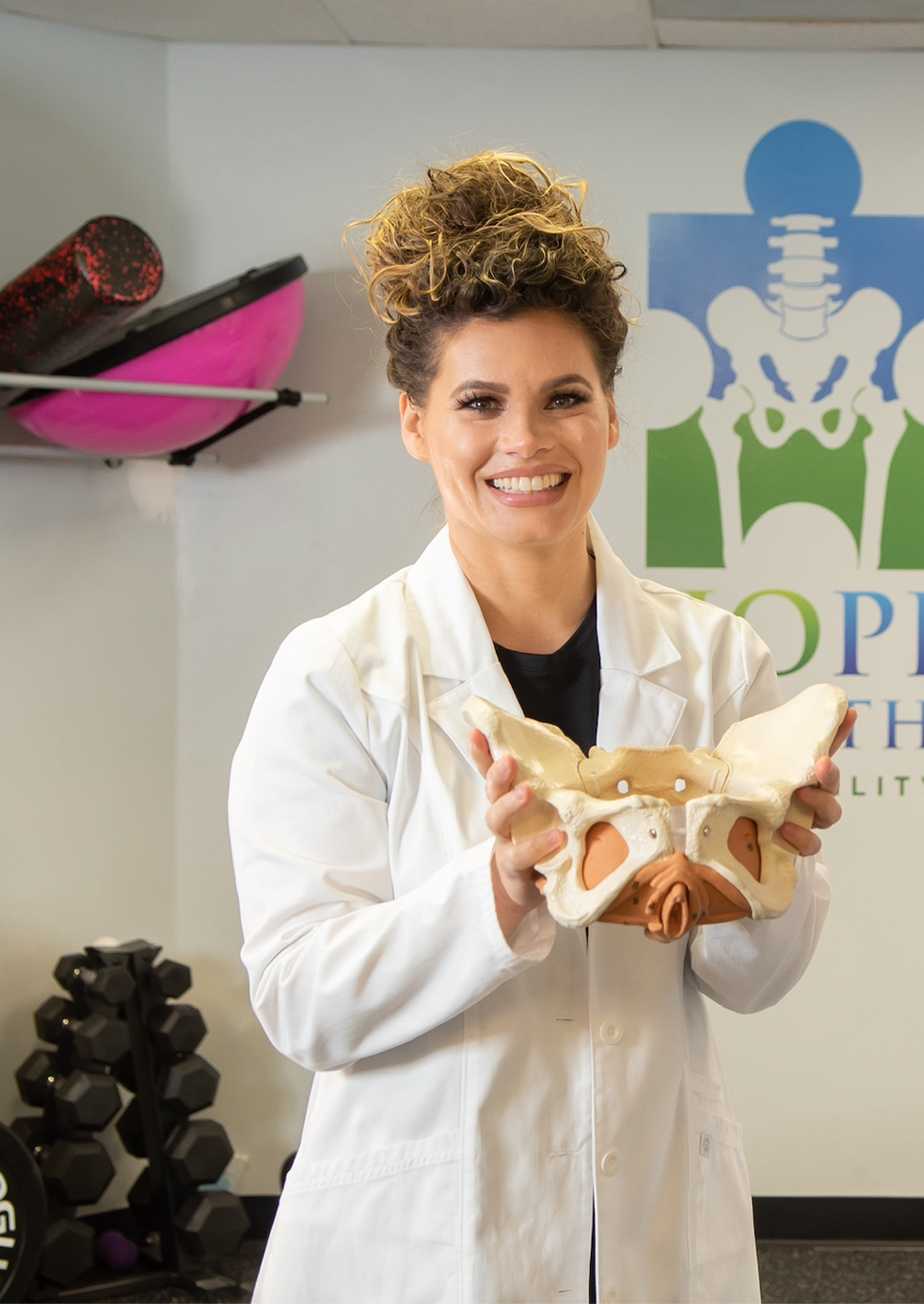 Empowering through education to help active women and men
get rid of bladder leakage, pelvic pain (pain with intercourse, low back pain, or hip pain) and regain confidence in their body to get back to the activities and workouts they love!
What OrthoPelvic's Pelvic Floor Physical Therapy is About
Orthopedic Physical Therapy helps people with sciatic pain, low back pain, post-operative rehab, and sport injuries, etc.  
Pelvic Floor Physical Therapy is anything that is related to the pelvis (low back, hip, digestive issues, hernias, separation of the abdominals ( DRA) , leakage,  constipation, pain with intercourse, postpartum, and pelvic pain)
  Ortho + Pelvic Physical Therapy combines the two specialties to provide a full body approach and not just treat the symptoms. We get to the root cause of the issue and provide lifelong tools to get you to return back to the activities and workouts you love.
We provide care, education, and treatment of a variety of issues including:
Coccyx (Tailbone) Pain

Diastasis Recti Abdominis/Bulging Abdominals After Birth (DRA)

Endometriosis

Foot Pain

Hip Pain

Erectile Dysfunction
Interstitial Cystitis (IC)

Knee Pain

Low Back Pain

Neck Pain

Overactive Bladder

Pain with Intercourse

Shoulder pain
Pelvic Organ Prolapse

Postpartum

Pubic Pain

Pelvic Pain

Pudendal Neuralgia

Urinary Leakage 
Wrist pain
Look What Others Are Saying About ​Specialty Treatment From OrthoPelvic Physical Therapy
All of the practitioners and staff here are truly excellent. I've been seen by several different PTs here and every single one is exceptionally knowledgeable and friendly. The advice and exercises are effective, and they really make you feel at ease. The facility is beautiful and easy to get to.
The reason I appreciate Orthopelvic Therapy so much is that they treat my body holistically. I have multiple joint injuries. My PT sessions address multiple body parts in a effective, kind and professional manner. I am taught exercises that are clear, effective and doable at home. I feel so good after each session.
Love the women here, they are all so supportive, super caring and they truly want to help you. I went in at 2 weeks postpartum because my hip started to really hurt after having a c-section and I am so glad I did because each session truly helped strength my core and hips again! It truly shows that they love what they do and that they want their patients to get better! Highly recommend!