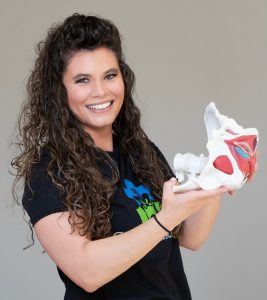 Dr. Kelly Alhooie, DPT, DN-cert, RYT is currently NOVA's leading Physical Therapist. Previously, she has practiced in leading cities across the U.S. (Atlanta, Rochester, Portland, and Irvine). This exposure gave her the opportunity to learn from and train alongside the top Functional and Integrative medicine doctors, DC, MD's, NP's, and PA's. Using an integrative approach to health/wellness is where she has seen the most success for her patients. Her specialties are in Orthopedics and Pelvic Health. Being an experienced professional in both these fields allows her to treat her patient's body as a whole.
Dr. Kelly Alhooie founded OrthoPelvic Physical Therapy because she was concerned about the "true" wellbeing of the patients that were entrusting themselves to her care. Prior to launching her company, she was being instructed to see multiple patients at one time with very little time for each individual.
Pondering this, gave birth to the vision and actions of Dr. Alhooie's personal practice. She promises to devote an hour of treatment to each patient (because let's be honest, 10-15 minutes per visit doesn't allot for getting to the root cause of the patient's symptoms as an individual).
Having quality time with her patients, allows for her to consult with other medical professionals that her patient is seeing. Collaborating, as a team, is what's best for her patients. She also has a trustworthy network of referrals should she discover an underlying health issue outside of her expertise. Her practice sets itself apart from all others because it is not dictated by a diagnosis code or insurance reimbursements. Dr. Alhooie truly exists to serve her patients.
Don't let pain keep you from doing the activities you want.

Take action today!