Experiencing pressure/leakage with activities like jumping and running?
We love using a wedge!
When you experience pressure during your workout…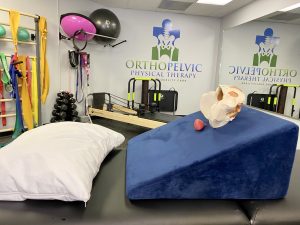 1. Stop and breathe 🌬(inhale: let belly hang out, exhale: pull belly in)
2. Hop up on the wedge and breathe for a few minutes. As you can see, gravity will help pull your bladder off of your pelvis and reposition it, allowing you to return to your activities!
Want to control your pressure AND keep your momentum up in a workout?
Swap the wedge for some glute bridges and keep your heart rate up!
Need more than a quick tip to help stop your leakage but can't come into the office?
Check out the new and improved Stop Leakage/Prolapse Recovery Plan! This go-at-your-own-pace eBook contains over 20 exclusive videos directly instructing you to assess and treat your leakage. We have poured a decade of experience and a great deal of care into this resource.
Local to Virginia and want to come in? Book a FREE 10-minute consult call. We'd love to see you✨
Be empowered in education,
OrthoPelvic Physical Therapy