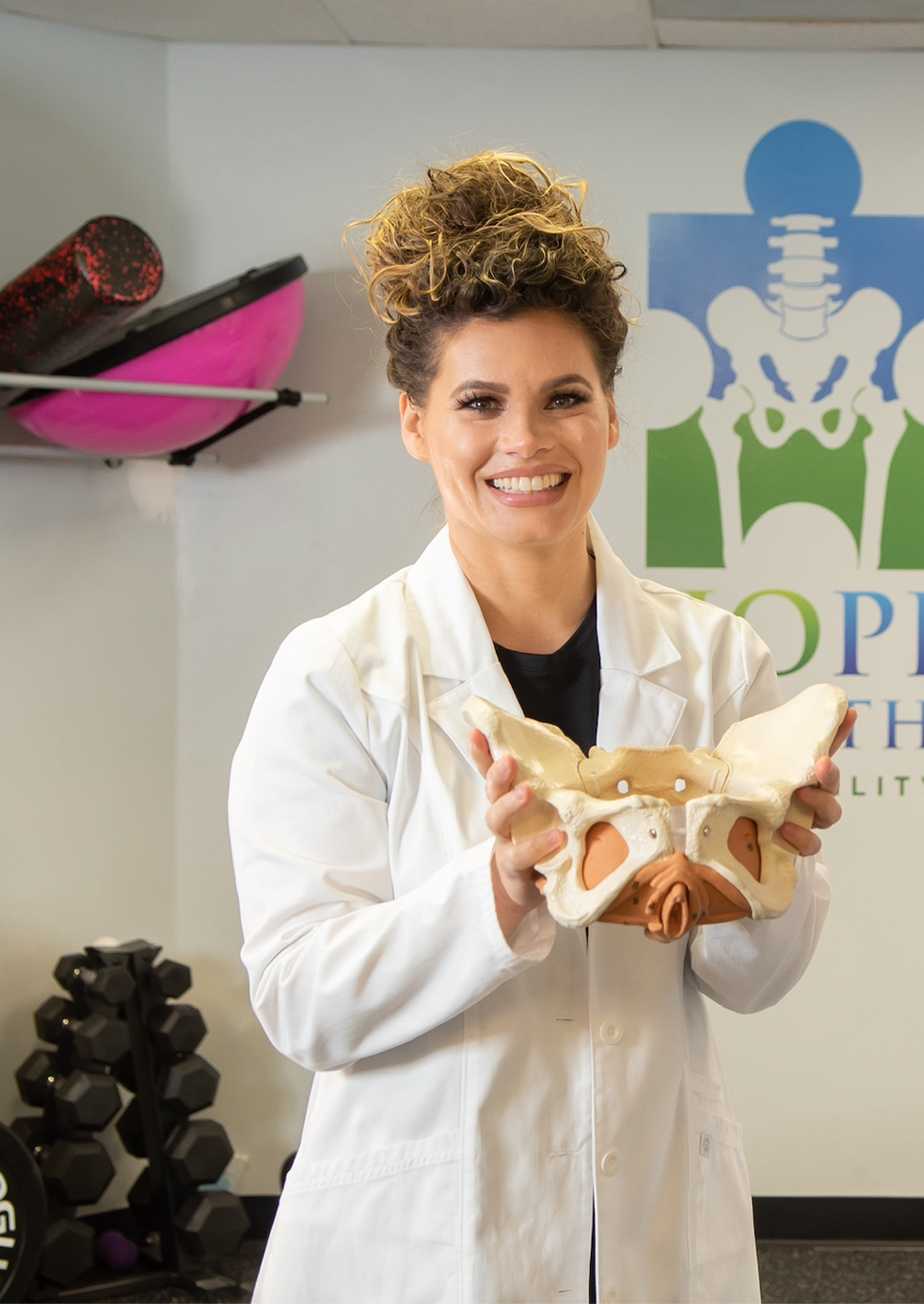 "We're helping Active Men and Women get rid of Bladder Leakage, Pelvic Pain (Pain with Intercourse, Low Back, or Hip Pain) And regain confidence in their body to get back to the activities and workouts they love...Without Costly Procedures!"
What Orthopelvic Physical Therapy is About
Orthopedic Physical Therapy helps people with sciatic pain, low back pain, post-operative rehab, and sport injuries, etc.  
Pelvic health physical Therapy is anything that is related to the pelvis (low back, hip, digestive issues, hernias, separation of the abdominals ( DRA) , leakage,  constipation, pain with intercourse, postpartum, and pelvic pain)
Ortho + Pelvic Physical Therapy combines the two specialties to provide a full body approach and not just treat the symptoms. We get to the root cause of the issue and provide lifelong tools to get you to return back to the activities and workouts you love.
We provide care, education, and treatment of a variety of issues including:
Coccyx (Tailbone) Pain

Diastasis Recti Abdominis/Bulging Abdominals After Birth (DRA)

Endometriosis

Foot Pain

Hip Pain
Interstitial Cystitis (IC)

Knee Pain

Low Back Pain

Neck Pain

Overactive Bladder

Pain with Intercourse

Shoulder pain
Pelvic Organ Prolapse

Postpartum

Pubic Pain

Pelvic Pain

Pudendal Neuralgia

Urinary Leakage 
Wrist pain
Look What Others Are Saying About ​Specialty Treatment From OrthoPelvic Physical Therapy
I have been working with Kelly for past couple of months and she is the best of the best. Not only is she helpful and kind, she also is full of knowledge of different aspects of Physical Therapy.

She even took time to do a quick overview of my husband who had a hurt back and said he may have a bulging Disc, we got an MRI and she was completely right! So grateful we found her.
I highly recommend PT Kelly. Not only did she help me with my problem, but she taught me how to treat myself.

Because of this treatment, I was able to avoid surgery. Thank you!
I was one of Kelly's patients when she was in Atlanta. She helped me recover from multiple sprained ankles as well as address other nagging issues I'd carried with me since high school.

At the same time, I was preparing to join the Army, and without her care, it's doubtful I'd have completed Ranger school. I'm very fortunate to have found her practice and to be able to call her a friend.